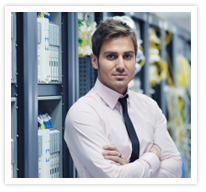 Custom Software Development
On time, within budget, exceeding expectations, sophisticated design, cutting-edge skills — that's what your enterprise can expect from Toftech talent. We will easily integrate with your local workforce and also have the knowledge and skills to work with your off-shore talent. Because of our experience, we can uniquely connect your company with the right IT talent or team of specialists.
From providing consulting expertise to developing a custom applications, we deliver an optimal solution by:
Understanding your business needs and shaping a solution that can fill today's needs, yet provide future flexibility.
Providing a project plan that identifies items within and out of scope, as well as a delivery timeline.
Designing a custom technology solution that works for your enterprise, is cost effective, integrates with existing systems and is easy to maintain.
IT Staffing Solutions
When you work with us, we make sure you are paired with innovative, personable, business-minded individuals. Because of their expertise and background, they can quickly understand the issue at hand and develop a solution to help meet your company৯als and objectives.
We're uniquely positioned to:
Provide enterprise IT experts to augment your existing IT staff to deliver a project
Assemble a team of specialists to quickly design and implement custom IT solutions.
Be part of the team, we can easily integrate with your existing staff — locally or globally.